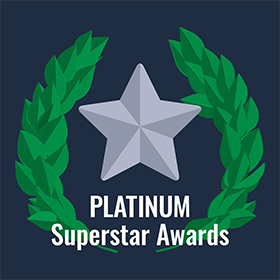 The Superstar Foundation has invited GuideStar, the world's largest source of nonprofit information, to help find, recognize, and grant a $5,000 reward to a case manager, social worker, or direct service staff who is a Superstar within his or her GuideStar Platinum-level organization.
If you or someone you know provides direct services to individuals and their families, is a high performer in his/her organization, and uses data to drive results for the population he/she serves, submit a nomination today:
"For more than 20 years, GuideStar has led the sector in using nonprofit data to make the world a better place," noted Steve Butz, chairman of the Superstar Foundation board. "We are excited to have GuideStar staff share their expertise by acting as guest judges for the 2016 Superstar Foundation Award."
"We love when our platform can raise up examples of excellence in the nonprofit sector," said Jacob Harold, CEO of GuideStar. "We are delighted to help recognize the very best staff of organizations that have already committed to greater transparency and learning."
Dates
Nominations open September 30, 2016, at 8 a.m. ET and close 11 p.m. PT November 23, 2016.
Winners will be selected, notified, and publically announced the week of December 19th, 2016.
Who Should Apply
Nominees must classify as either:
Front-line staff member who provides direct services to individuals and their families, or
Individual in a management or supervisory role who also carries a caseload or dedicates at least 50 percent of his/her time to direct service.
Eligibility
This grant is exclusively offered to individuals who are employees of organizations that have received a Platinum GuideStar Seal of Transparency by 11 p.m. PT November 23, 2016.
Nomination Process
The nomination process is conducted entirely online and managed by the Superstar Foundation. GuideStar employees will act as guest judges, using criteria established by the Superstar Foundation. Full terms and conditions.
For questions regarding your organization's eligibility or further information, please contact Courtney Cherico, content marketing associate, GuideStar, at Courtney.cherico@guidestar.org.
About GuideStar
GuideStar, www.guidestar.org, is the world's largest source of nonprofit information, connecting people and organizations with data on 2.4 million current and formerly IRS-recognized nonprofits. Each year, more than 7 million people, including individual donors, nonprofit leaders, grantmakers, government officials, academic researchers, and the media, use GuideStar data to make intelligent decisions about the social sector. GuideStar Nonprofit Profiles are populated with information directly from nonprofits, the IRS, and other partners in the nonprofit sector. In addition, users see GuideStar data on more than 200 philanthropic websites and applications. GuideStar is itself a 501(c)(3) public charity.